Lettuce Celebrate This Weekend with Buttermilk Dressing
Memorial Day Weekend, the unofficial kickoff to summer, is here! We're celebrating life with friends, family, and food. And while we're all for barbecues and popsicles being your main sources of food all weekend long, we wouldn't be who we are if we didn't advise a little bit of balance.
But don't worry, we're going to make things really easy for you. Check out the easiest three-minute one-bowl, one-spoon recipe that'll taste as great as it'll make your gut feel!
Buttermilk Dressing

Buttermilk is like the quiet kid in the lunchroom who no one really knows but actually has a really cool drum set at home. It always gets a bad rep for sounding fattening and creamy, but it's actually made from probiotics and lactic acid bacteria (AKA: the good-for-you stuff). So not only is it far less in calories than you might imagine, it's a healthy dose of probiotics!
But before you get too excited and start running for the nearest buttermilk biscuit bakery, know this: heating buttermilk actually kills all the good bacteria, so you'll need to enjoy it cold or at room temperature for its health benefits like drinking it as a beverage, adding it to cold soup, or creating a salad dressing.
What you'll need
1 Tablespoon of Chopped Cilantro Flakes 
1 Tablespoon of Chopped onion flakes
1 Tablespoon of Parsley
1 Tablespoon of Granulated garlic
1/2 Teaspoon of Salt
1/4 Teaspoon of Sugar
1/4 Cup of Nonfat Yogurt
1/2 Cup of Buttermilk
1 Tablespoon of Apple cider vinegar
And just whisk it all together!
BONUS: Red Wine 
You're going to love this one: drink red wine.
Not only is wine so good, it also serves as an excellent prebiotic-- food for the already-existing probiotics in your body. The American Journal of Clinical Nutrition published a study in 2012 on how drinking between "two to glasses of red wine daily for four weeks increased the number of several healthful strains of gut bacteria". Red wine's powerful antioxidants and alcohol components allow for this effect, ultimately decreasing your cholesterol levels and blood pressure.
So go on ahead and pour yourself some red wine. Happy Memorial Day!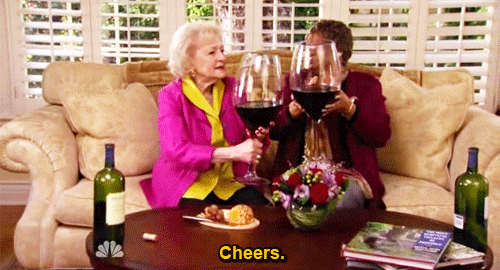 (Via Giphy)